The Ontario Health Study Newsletter, Fall 2014
Nov 3, 2014 // OHS Newsletter
The Canadian Partnership for Tomorrow Project has recruited more than 300,000 participants
When you take part in the Ontario Health Study (OHS), you are contributing to something even bigger. The OHS is one of five regional cohorts of the Canadian Partnership for Tomorrow Project (CPTP), alongside the Alberta Tomorrow Project, the BC Generations Project, CARTaGENE in Quebec, and the Atlantic PATH project. The data collected by these studies are harmonized to create the largest health study of its kind in Canada. 
As of August 31, 2014 the National cohort has reached a milestone by surpassing 300,000 participants and more than 124,000 blood samples. This includes the contributions made by more than 159,000 OHS participants between the ages of 35 and 69; more than 21,000 of whom have provided a blood sample. Beginning in mid-2015, health researchers will be able to use data collected through the CPTP in their studies to investigate the causes and prevention of many chronic diseases. Click here to learn more about how the OHS keeps your information secure.
Provide a blood sample today
Have you ever wondered why the OHS asks for blood samples or why blood samples are so important to us? Blood samples are an extremely valuable tool for health researchers. They are used to:
measure internal levels of pollutants you may be exposed to,
identify early indicators of diseases that have not yet been diagnosed, and
discover new genes that affect the likelihood of contracting a disease,  
among many other uses.  The collection and use of blood samples is critical to the long-term success of the OHS; we ask for your help to create this important research resource.
Interested in receiving an invitation to provide a blood sample? Please log in to your OHS account and click the banner that says "Discovery: It's in your blood." If you need assistance or do not see this banner, feel free to get in touch with us via email or telephone. We're here to help.
Do you have a blood collection requisition form but are unsure where to go? Click here to automatically find your closest LifeLabs location. Walk-in appointments are available, but to reduce potential wait times, you can make an appointment to provide a blood sample at a participating LifeLabs location online by clicking here.
At this time, we are currently only able to accept one blood sample per participant. If you have already provided a blood sample, we thank you for your important contribution to this ongoing initiative.
I've just given blood. What's in it for me?
Now that you know why blood samples are beneficial to research, it's also important to know how this will benefit you. Before your sample is frozen for use in future research studies, the OHS will perform various tests to analyze your blood. Once they are complete, you will receive a personalized blood analysis report that will help you become proactive in your health.
The results of the report will identify:
Complete Blood Count (CBC) – This will give a general indication of your health. The types of cells that will be analyzed include hemoglobin, white blood cells and platelet counts;

Hemoglobin – You will find out the amount of hemoglobin in your blood. Hemoglobin carries oxygen to your body's organs and tissues and transports carbon dioxide from your organs and tissues back to your lungs;
White blood cell count – White blood cells help fight infections in the body;
Platelet count – Platelets aid in blood clotting;

Glycosylated hemoglobin (HbA1c) – The long-term level of sugar in your blood will be measured. This is used to detect and monitor cases of diabetes and will help health researchers study diabetes, heart disease and obesity.
Any results that are considered outside of the normal range will be noted in your report. Please keep in mind that this does not necessarily mean there is anything for you to worry about. If you are concerned about your results, we recommend that you see your family physician or visit a walk-in clinic as only a physician will be able to interpret your test results in the context of your overall health.
Visit an OHS Local Study Centre near you
The OHS will also be opening temporary Local Study Centres in towns and cities throughout Ontario on a rotating basis to collect blood and perform physical measurements. Initial locations were opened in Mississauga, Markham and Peterborough this summer where 305 assessments were completed. We are excited to announce that eligible participants will be able to visit our Hamilton Study Centre, which will be open November 24-29 at the Sir Allan MacNab Recreation Centre, 145 Magnolia Drive in Hamilton. If you are interested in taking part, please click here to learn more or click here to book an appointment.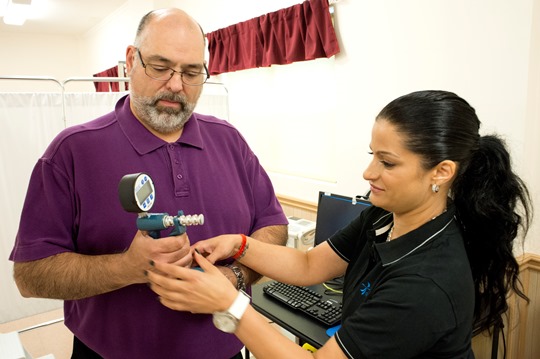 An OHS Local Study Centre may visit your city next. We've heard your suggestions and are happy to announce that more locations are coming soon, including Windsor, Ottawa and more. Eligible participants will receive an email invitation when a nearby location is announced. If you are interested in receiving an invitation, email info@ontariohealthstudy.ca or call 1-866-606-0686.  Please note that if you wish to provide a blood sample to OHS, you also have the option of visiting a LifeLabs location; click here for more details.
Spread the word and look for a Local Study Centre in your area!
If you have moved or changed your phone number or email address since you first took part in the Study, you can log into your account at https://study.ontariohealthstudy.ca and update any information that may have changed.