The Ontario Health Study Newsletter, June 2016
Jun 16, 2016 // OHS Newsletter
In this issue:
New study on metabolic syndrome to use OHS data
Data and samples provided by Ontario Health Study participants will be used to research a range of health conditions that increase the risk of serious disease.
Philip Awadalla, Principal Investigator for the Ontario Health Study, was recently awarded $2 million from the Canadian Institutes for Health Research to fund a study looking at the role of both genes and the environment in the development of "metabolic syndrome".
Metabolic syndrome is a cluster of conditions — increased blood pressure, high blood sugar, excess body fat around the waist, and abnormal cholesterol or triglyceride levels — that occur together, increasing your risk of heart disease, stroke and diabetes.
"This funding will allow us to tap into the vast data holdings of the OHS," said Dr. Awadalla. "Ultimately we hope to find new and better ways to manage these conditions and other linked diseases such as cancer."
Read the media release for more information.
OHS data provides closer look at the mental health of ethnocultural minorities
Ethnocultural minorities suffer from a higher level of mental health issues but are less likely to access care for treatment, a study out of York University using Ontario Health Study (OHS) data has found.
"We don't generally have a lot of data on these ethnically-diverse groups, so the OHS represented a unique opportunity," explains Prof. Sherry Grace, also of University Health Network. "Validated, reliable data on anxiety, social isolation, stressful life events and mental health service use—this isn't available anywhere else."
One in five Canadians will experience a mental illness in their lifetime. Despite how diverse Canada is, there is very little research on the mental health of ethnic minorities.
See the results and read the full study.
Discovery—It's in your blood
With more than 230,000 participants having filled out questionnaires about their health, the Ontario Health Study is well on its way in creating a research platform to fight chronic disease. To enhance the data provided via the questionnaires, the Study is currently focused on the collection of blood samples from participants. Blood samples have the potential to shape our understanding of not only the environmental and lifestyle risk factors related to chronic disease but how they interact with our genetic makeup.
How can you help?
If you've already provided a blood sample, you can still help by encouraging your friends and family to sign up for the OHS.
For those who haven't already provided a blood sample and have received an invitation, you need to:
Log into your account to respond to the invitation. You may be asked to complete a short consent form and answer a few quick questions to ensure you can safely provide your sample.
If you are going to a Local Study Centre, you can book an appointment while you are logged into your account.
If you are providing your blood sample at LifeLabs, a requisition form will be generated for you to complete. Please note that the form may not display properly on iPads and other tablets so it's best for you to access it from a desktop or laptop computer.
Within 10 business days your blood analysis report will be ready to view on your account, and you will receive an email notification when it is ready. If more than 10 business days have passed, the email may have inadvertently gone to a junk mail folder, so log into your account to confirm if your results are available. Don't hesitate to contact the OHS if you do not see your results.
If you have any questions, please email info@ontariohealthstudy.ca.
Building a "biobank"
We're often asked what happens to your blood samples once they've been collected. With your help, we've collected more than 34,000 blood samples as of June 16, 2016. Here's what happens to each of them as we build a biobank for future research.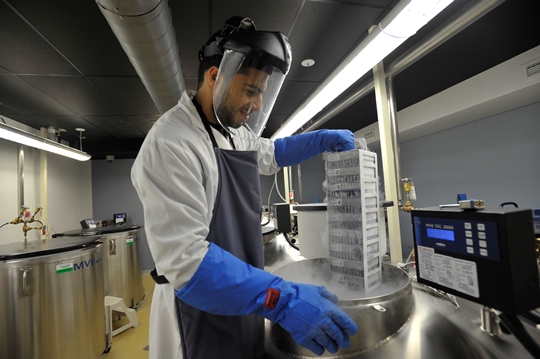 We'd like to hear from you
We want to make participating in the Ontario Health Study as simple as possible.
Ideas around how our website could be improved? Can we make it easier for participants to sign up? How should we encourage participants to provide a blood sample?
Email us at communications@ontariohealthstudy.ca with the Subject line "OHS Suggestion". We welcome your feedback.