The Ontario Health Study Newsletter, November 2017
Nov 20, 2017 // OHS Newsletter
In this issue:
---
Take a half hour and tell us how you're doing
It has now been a full year since the first Ontario Health Study (OHS) follow-up questionnaire was made available to all eligible participants. In that time, many of you have provided an update on your health! We would like to take this opportunity to thank these participants for their continued participation.
However, if you've not yet completed the questionnaire, it's not too late. The first follow-up questionnaire is still available on your account and ready to begin. Continued participation in long-term health studies like the OHS is extremely important, as the purpose is to track how your health changes over time.
Just login to your account here and click on the banner to get started or resume where you left off.
In just a half-hour, you can make a lasting contribution to the health of future generations and provide researchers with important data that is critical to the understanding of chronic diseases like cancer.
Follow-up Questionnaire: Some Fast Facts
63% were completed by women and 37% were completed by men.
The oldest participant to complete the follow-up questionnaire is 95!
The median time to complete the questionnaire is 36 minutes.
---
The OHS is open for business!
In March the recruitment phase of the Ontario Health Study (OHS) came to an end and the Study started to shift its focus to making our data and biosamples available to researchers. We're happy to report that we are now open for business! Researchers from accredited institutions can apply to access OHS data and information to use in their investigations into cancer and chronic disease.
With more than 225,000 participants from across the province and a biobank of more than 41,000 blood samples, the Ontario Health Study (OHS) is one of Canada's largest, long-term health studies. Thanks to you, the OHS is a rich resource for researchers to use now and decades into the future to find ways to better treat and prevent cancer and chronic disease.
A number of researchers are already using OHS data to look at how our environmental exposures are linked to our health, risk factors for diseases such as diabetes and stroke, early cancer detection and prevention, and the role that greenspace plays in perceived health and health outcomes in urban centres.
To find out more about research using OHS data, visit the Research page on our website.
---
Diabetes Awareness Month
November is Diabetes Awareness Month and, here at the OHS, we're encouraging participants to fill out their follow-up questionnaire to help researchers learn more about a disease that affects 11 million Canadians.
Diabetes is one of the most common chronic diseases in Canada. Having diabetes also increases your risk of developing other health conditions, like heart disease and kidney failure. Within the OHS community, about 14,000 participants have reported that they have diabetes.
While researchers are aware of the risk factors for diabetes, there are still a lot of questions around how and why they increase your risk for the disease. The OHS follow-up questionnaire collects information about these risk factors such as high blood pressure, high cholesterol and family health history. Taking 30 minutes of your time to complete the follow-up questionnaire adds valuable information to our data–which will help researchers identify the environmental, lifestyle and genetic factors associated with many chronic diseases, including diabetes. And the better we understand the cause of chronic disease, the more likely we are to find better ways to treat or prevent diabetes altogether.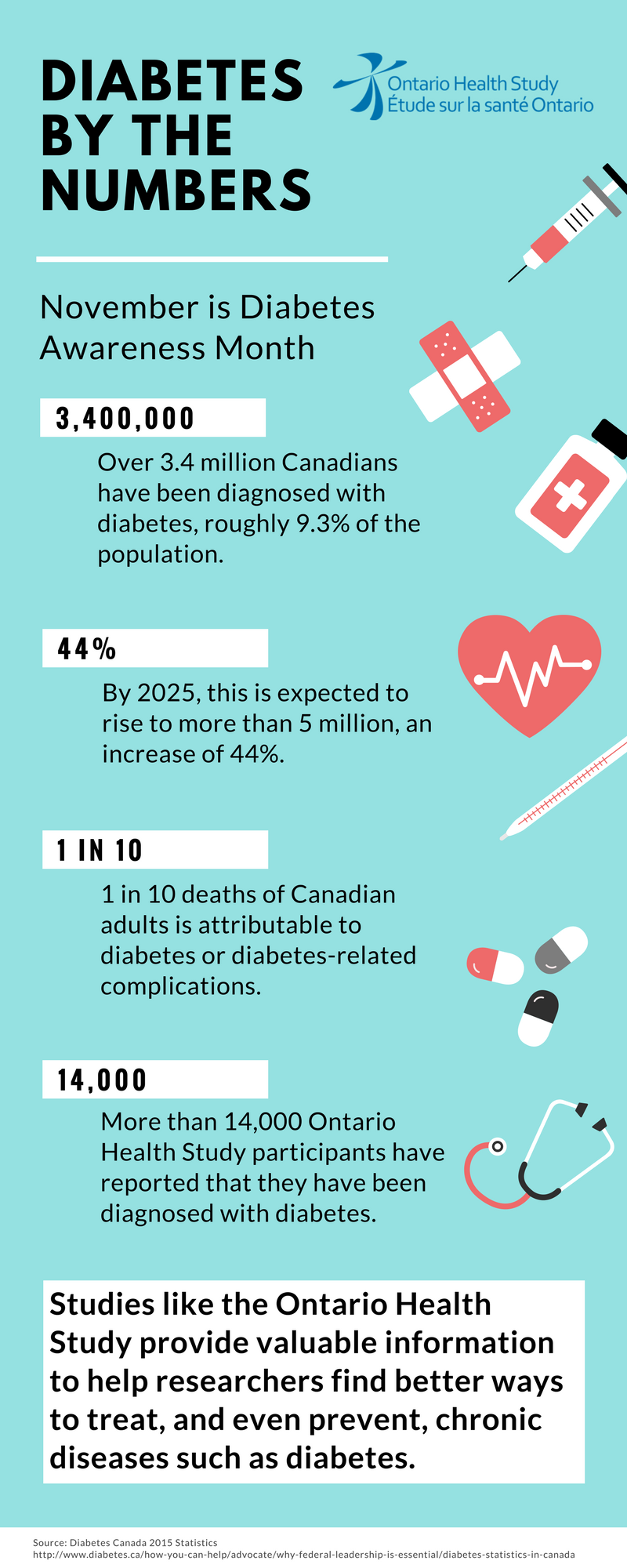 To find out more about Diabetes Awareness Month, visit Diabetes Canada.
To fill out our follow-up questionnaire, login to your account and click on the banner at the top of the page.
---
Reminder: Update your contact info
One of the most valuable things about the Ontario Health Study is that we will continue collect information about your health throughout your life. We do this so that changes in your health can be tracked over time.
Having current, up-to-date contact information for our participants is vital to the success of the OHS. Your participation in the OHS contributes valuable data and information to support cancer and chronic disease research.
If your email, address or phone number change, please remember log in to your OHS homepage and update your contact information. Current contact information allows us to send you follow-up questionnaires so you can update us on your health.
How to update your contact information:
Click "My Profile," then click "Personal Information".
Make any necessary changes and click "Apply" at the bottom of the page.
If you require assistance in updating your information, a member of our Study team will be happy to help. You can contact the OHS Call Centre Monday through Friday from 9am to 5pm by calling 1-866-606-0686 or sending an email to info@ontariohealthstudy.ca.
---
Why did you decide to participate in the OHS?
Your continued participation in the OHS is crucial to our success so we are interested in finding out more about what drives your participation. Not only why you decided to sign up for the OHS, but also why you continued to take part in the Study by completing the follow-up questionnaire or by providing a blood sample.
Why is taking part in the OHS important to you?
Please let us know by sending an email to communications@ontariohealthstudy.ca with the subject line "OHS Feedback".