The Ontario Health Study Newsletter, November 2015
Nov 23, 2015 // OHS Newsletter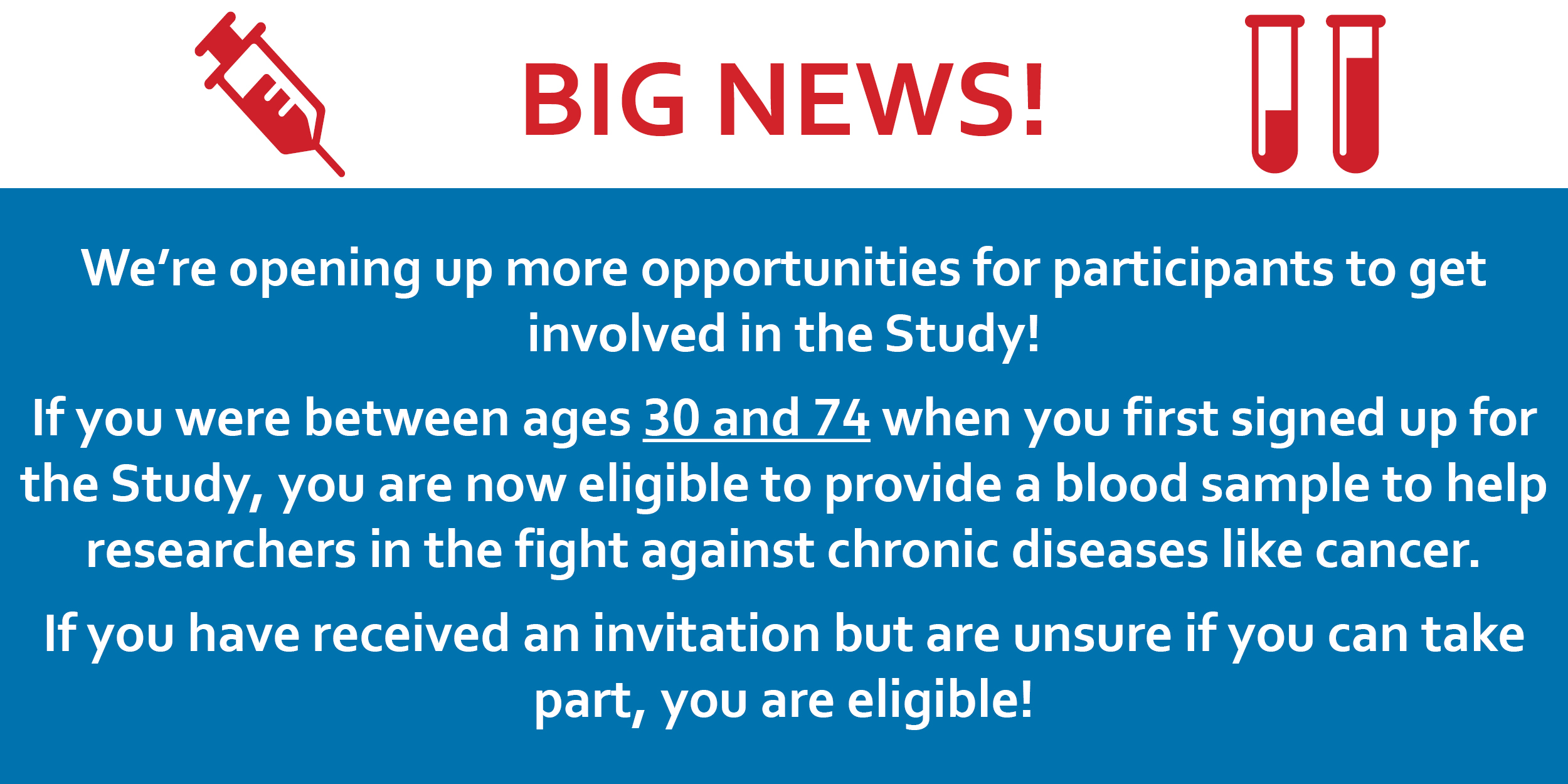 One of the first of many projects to use Ontario Health Study data now published
This article originally appeared in the October 2015 issue of Hospital News
Trees provide us with shade and help to clean the air, but new research shows they may also be helping us out in other ways. Using data from the Ontario Health Study (OHS) and City of Toronto forestry records, researchers at the University of Chicago have shown the positive effect that living near trees can have on our health.
The study is one of the first to use data from the OHS, and shows the power of this data for researchers studying how to help prevent chronic disease in our communities.
The study found that people who live in neighbourhoods with a higher density of trees on their streets reported having a better perception of their health and significantly fewer cardio-metabolic conditions such as high cholesterol, heart disease, stroke and diabetes. The researchers also discovered that "having 10 more trees in a city block, on average, improves health perception in ways comparable to an increase in annual personal income of $10,000 and moving to a neighbourhood with $10,000 higher median income or being seven years younger."
Researchers used self-reported data involving general health perception, cardio-metabolic conditions and mental illnesses gathered through OHS online questionnaire responses from participants aged 18 and older. "This study shows how useful the data that the Ontario Health Study collects is to researchers," says Dr. Philip Awadalla, Principal Investigator of the OHS. "This study and others that will follow will help us better understand how the environment affects our health. It is important to understanding the causes of a number of diseases such as cancer, diabetes and Alzheimer's."
Participants in the OHS aged 30 to 74 can also choose to provide a blood sample at a Local Study Centre (LSC), which are set up in temporary locations across the province. Planned locations for LSCs over the next several months include Hamilton, Windsor, Ottawa, and Sarnia/Lambton. Within 10 business days of providing a blood sample, participants receive a detailed blood analysis report that they can use to get an overall picture of their health.
The OHS is part a nationwide research platform called the Canadian Partnership for Tomorrow Project (CPTP) that has obtained health data from more than 300,000 Canadians — nearly one in every 50 individuals between the ages of 35-69. Through the OHS, 160,000 Ontarians will participate in the CPTP. The CPTP can also link to other national and international cohorts, which will allow researchers to access data on more individuals and let them study rare cancers and other chronic diseases.
"To get to the bottom of what causes chronic diseases and to develop strategies for prevention and new treatments we have to work together," says Awadalla. "Initiatives such as the Canadian Partnership for Tomorrow Project are a great example of this. By pooling our resources - in this case data and physical samples - we will better improve the health of future generations." To learn more about the Ontario Health Study and to participate, visit www.ontariohealthstudy.ca. Information about the Canadian Partnership for Tomorrow Program can be found at www.partnershipfortomorrow.ca.
Q&A with Dr. Marc Berman, author of 'Neighborhood greenspace and health in a large urban center'
OHS: Your article on neighbourhood green space received a lot of media attention. What has been the general reaction to your findings?
Dr. Marc Berman: I think the response has been pretty positive. Many people have the intuition that trees and green space are good for health and it is nice to have some scientific backing behind those intuitions. There have been some misinterpretations of our findings, though. For example, some people have claimed that of course this is true because wealthier people live in greener neighborhoods. In our study, we controlled for that, so all of the effects that we found were independent of income, age and education. That is, the trees, by themselves, contributed to health
Why was the Ontario Health Study chosen as the source of health data?
Because it is a large and expansive health dataset.
How was Ontario Health Study data beneficial to your research?
We could not have done the study without OHS data as these were the only health data we had access to.
What impact do you foresee your research having on subjects such as city planning and public health policy?
I would hope that the results will be taken seriously by city planners and public policy makers. I also hope it encourages more scientific research in this area. For one, our results are correlations, so we cannot draw strong conclusions from our study. Second, we do not know the mechanism as to why the trees were related to improved health. Answering these questions will help us to design better and more livable cities.
What other potential uses for OHS questionnaire data and biospecimens would be beneficial to research in your field?
That is a good question. We're hoping to continue to use OHS data to try to find causal relationships between green space and health.
Why was Toronto selected as the urban centre used in your research study?
Toronto has some really great GIS (geographic information system) datasets datasets in terms of quantifying trees and green space. I was also living in Toronto at the time and have family in Toronto so I had a personal interest in studying that metropolitan area. My hunch is that our results are not specific to Toronto, but would translate to all major cities. This is something that we're looking to verify now as well.
Canadian Cancer Society provides boost to Study enrollment
Reaching out to millions of Ontarians is not an easy thing to do on your own. Luckily for the Ontario Health Study (OHS), we have the support of many partner organizations, such as the Canadian Cancer Society (CCS). The CCS helps the OHS in many ways, and this summer they helped the Study sign up 130 new participants at their Relay For Life events in Burlington, Toronto and Sudbury. Of those new volunteers, 120 provided a blood sample on site. The Relay For Life has been the signature fundraiser for the CCS since 1999 and allows people of any age or fitness level to join in. Thank you to everyone who contributed to making this happen, and welcome to our new OHS participants!
The Ontario Health Study may be coming to your community
The Study's Local Study Centre (LSC) Program has been busy this fall visiting communities across Ontario, but we are not done yet. LSCs allow OHS participants to contribute even further to the Study by providing a small blood sample. By doing so participants not only help researchers, they are also given an opportunity to improve their own wellbeing by receiving a detailed blood analysis report about their overall health. Recently, we expanded our age criteria for our Local Study Centre and Blood Collection Programs so even more people can join us. Now, participants who completed their questionnaire when they were between the ages of 30 and 74 are eligible to provide a blood sample.
After visiting Burlington, Cambridge, Guelph, Hamilton, Kitchener, Mississauga Oakville and Peterborough this fall, the Study plans on running LSCs in other communities over the next several months, including Windsor November 30-December 3. Sessions are also being planned for Ottawa, Sarnia/Lambton and Toronto. The dates of these LSCs have not yet been finalized.
If you are an eligible participant in this area, you will receive an invitation to take part when locations are officially announced. Click here for details on available and upcoming locations.
In addition to community-based centres, we continue to expand our recruitment and on-site blood collection to charities, health organizations, professional associations, government, non-profits, companies and other employers. If you are interested in partnering with the Study or promoting it to your community, employees, patients or organization, please click here for more information.
Updating Your OHS Contact Information
Please remember to log in to your OHS homepage and update your contact information (address, postal code, phone number, email) if it has changed since you joined the Study. Updating your OHS profile with your most current contact information allows us to inform you of all of the latest OHS initiatives and programs. If you have taken part in either the OHS Blood Collection Program or visited an OHS Local Study Centre please ensure you have provided up-to-date contact information so we may notify you when your personal results are available online.
How to update your contact information:
Click "My Profile," then click "Personal Information".
Make any necessary changes and click "Apply" at the bottom of the page.
If you require assistance in updating your information, a member of our Study team will be happy to help. You can contact the OHS Call Centre Monday through Friday from 9am to 5pm by calling 1-866-606-0686 or sending an email to info@ontariohealthstudy.ca.