The Ontario Health Study Newsletter, June 2015
Jun 4, 2015 // OHS Newsletter
OHS 'pops-up' around the province with 16 Local Study Centres
The Ontario Health Study (OHS) recently launched an ambitious program to travel to communities across the province to collect blood specimens from current participants and enroll new participants. The collected blood samples are a critical part of the Study's mission to create a resource for scientists to access to use to better understand the causes of cancer and other chronic diseases.
So far the OHS has run Local Study Centres (LSCs) in Mississauga, Markham, Peterborough, Hamilton, Windsor, Oshawa, London, Waterloo, Brampton, North York, Scarborough, St. Catharines, Kingston and three locations in Ottawa, with blood specimens collected from nearly three thousand participants. The response from these communities has been excellent. The Ottawa LSC was particularly successful, collecting 972 blood samples over five days.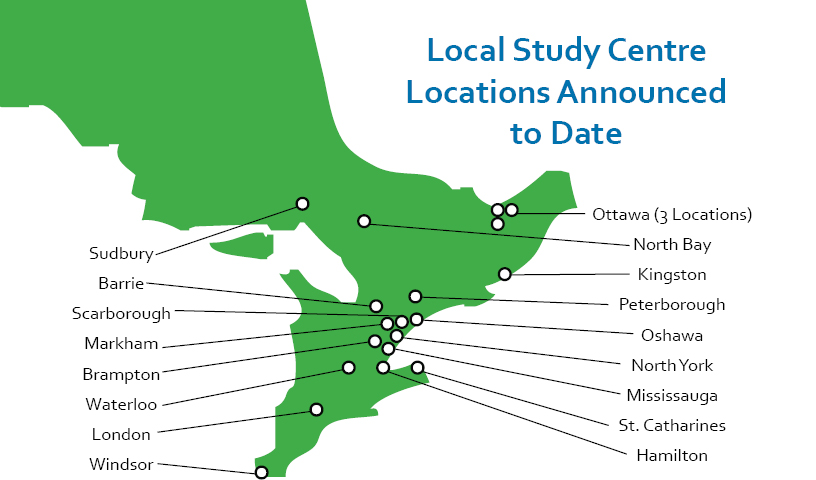 An appointment to provide a blood specimen at a Local Study Centre typically takes about 25 minutes. Not only are participants helping researchers, they also receive a detailed blood analysis report that will help them learn about and improve their health.
If located near future planned Local Study Centres, eligible OHS participants aged 35-69 that have not yet provided a blood sample to the Study will be invited by email, and other eligible participants can select a location of their choice by visiting the LSC page on the OHS website. Walk-ins are accepted but it is recommended to sign up and book an appointment online at the OHS website.
"We've seen a great response to our first group of Local Study Centres and we're looking forward to visiting more communities across Ontario," says Dr. Mark Purdue, Executive Scientific Director of the OHS. "Through the contribution of a blood sample and a small amount of time, OHS participants can make an important impact on research to improve the health of future generations."
For more information about the OHS visit www.ontariohealthstudy.ca.
Two key partnerships announced
We at the Ontario Health Study (OHS) want to recognize and thank two important new partner organizations, Canadian Blood Services and the Canadian Cancer Society, that are assisting us with our enrollment and blood collection campaign.
Canadian Blood Services is launching several new initiatives to raise awareness about OHS among its staff and donors at blood collection centres across the province. This month, the organization will be hosting an enrollment and blood collection drive at its head office in Ottawa. "We at Canadian Blood Services strongly support the mission of the Ontario Health Study.  A large number of blood transfusions in Ontario are performed for patients undergoing treatment for cancer and heart disease. The discoveries that will come from the OHS will help bring us closer to preventing these diseases in future generations."
To learn more about becoming a blood donor, please click here.
The Canadian Cancer Society is helping OHS in several ways, most notably by hosting study enrollment and blood collection drives at Relay For Life events in Burlington on June 5, Toronto on June 13 and Sudbury on June 19 (click here for details). Since 1999, Relay For Life has been the signature fundraiser of the Canadian Cancer Society. This year's goal is to raise $13 million through more than 70 events across Ontario. People can participate at any age or fitness level by passing a baton between team members and challenging each other to reach their distance and fundraising goals.
Every step taken helps fund promising cancer research, community support services and other important work so that fewer Canadians are touched by cancer. For example, last year, the Canadian Cancer Society helped more than 46,000 people in Ontario through its support services.
"We are very excited to be helping the Ontario Health Study enrol more Canadians into their study, as well as boosting blood donations. This important research will contribute to a better understanding of the causes of cancer and other diseases," says Rowena Pinto, Vice President, Public Affairs and Strategic Initiatives, Canadian Cancer Society, Ontario Division.
To learn more and register for Relay For Life, please click here.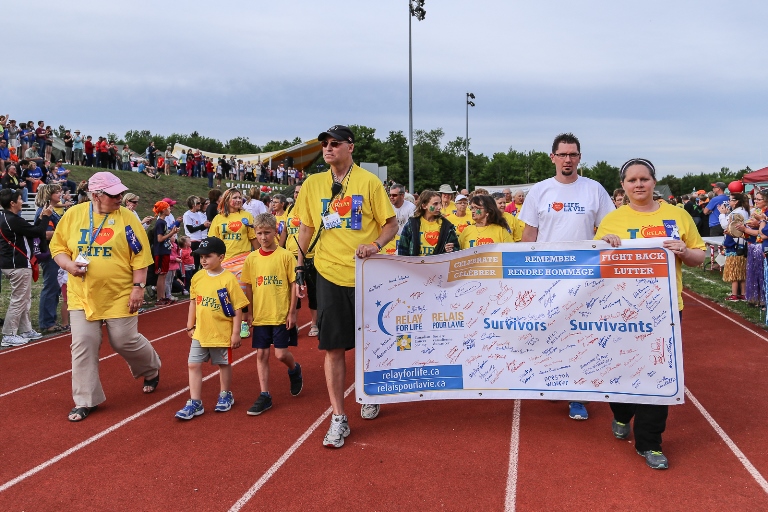 Become a Community Champion and Help Spread the Word about the OHS!
In an age when people are bombarded with messages every day from TV, the Internet and other sources, word of mouth still remains one of the best ways to make an impression. The Ontario Health Study's (OHS) Community Champions program uses the power of daily social interactions in communities across Ontario to raise awareness about the Study and encourage more people to join. Recently the OHS asked current participants to help spread the word about the Study and how to join. We were thrilled by the response, with over 250 participants offering to help! To build on this momentum the Study is looking for more Community Champions.
Community Champions play an important role in explaining the goals of the OHS and what it takes to get involved to others in their communities. Being a Community Champion can be as simple as emailing three friends or family members to tell them why you chose to participate in the Study, dropping off brochures or bookmarks at your local library, or helping to raise awareness of OHS events when we visit your community. "The work of our Community Champions has really helped us get more Ontarians to join the Ontario Health Study," says Dr. Mark Purdue, Executive Director of the OHS. "We hope that more people become Community Champions to help spread the word."
Those interested in becoming Community Champions can contact us at 1-866-606-0686 or info@ontariohealthstudy.ca. Promotional materials can also be ordered. 
Updating Your OHS Contact Information
Please remember to log in to your OHS homepage and update your contact information (address, postal code, phone number, email) if it has changed since you joined the Study. Updating your OHS profile with your most current contact information allows us to inform you of all of the latest OHS initiatives and programs. If you have taken part in either the OHS Blood Collection Program or visited an OHS Local Study Centre please ensure you have provided up-to-date contact information so we may notify you when your personal results are available online.
How to update your contact information:
Click "My Profile," then click "Personal Information".
Make any necessary changes and click "Apply" at the bottom of the page.
If you require assistance in updating your information, a member of our Study team will be happy to help. You can contact the OHS Call Centre Monday through Friday from 9am to 5pm by calling 1-866-606-0686 or sending an email to info@ontariohealthstudy.ca.